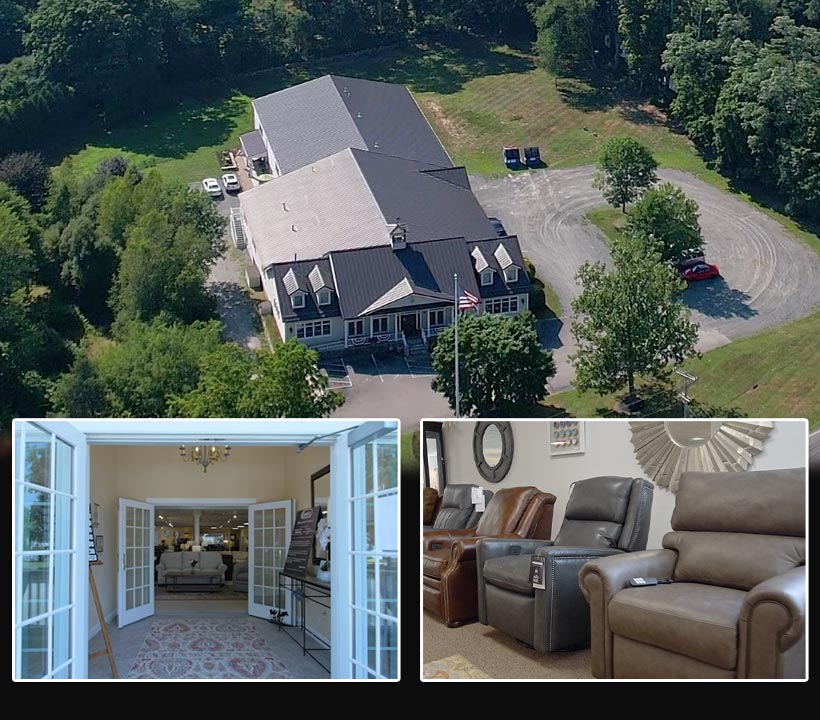 Real Leather Furniture You Can Take Home Today
Currier's Leather Furniture is not your ordinary furniture store. We specialize in making high quality, 100% real leather furniture affordable for everyone. Simply put, no other furniture store is quite like us, and we promise that your experience here will be as enlightening as it is enjoyable. Here are some of the ways we do that:
Friendly Service in a Comfortable, Stress-Free Environment
Our sales team is comprised entirely of salaried leather furniture experts – not commissioned sales representatives who are more interested in making a sale than ensuring your total satisfaction. We pride ourselves on providing a comfortable, no-pressure sales environment. No one will harass you at the door. Nobody will follow you around the showroom. You can take as long as you like, and browse at your own pace.
If you need help or have a question, just ask! Our staff of experienced leather furniture professionals is always eager to help. We'll even provide you with pictures, measurements and leather samples to ensure you are getting everything you want. Quality real leather furniture is our passion, and we look forward to sharing that with you.
Leather Furniture Savings of 40% – 60% Off Every Day
We have a simple philosophy at Currier's Leather Furniture: Offer the largest selection of high-quality real leather furniture at the lowest prices every day.
Our pricing formula looks like this: We offer our real leather furniture at 40% – 60% off depending on the brand. Plus, if you select something from our sales floor, we give you an additional discount.
Why do we price this way? Simple. Quality leather furniture is our passion, and we love sharing our passion with as many people as possible…even if it means we don't make as much money. So instead of making $600 on an item, we would prefer to make $200 and sell five times as many.
The exception to our 40% – 60% rule is our Ekornes Stressless®, Fjords and Amercian Leather furniture, and accessories,. That's because these brands  set a minimum required price for their furniture. Stores only are permitted to sell these brands and accessories at or above their minimum price. Currier's always sells these items at the minimum price allowed by the manufacturer.
Expansive Leather Furniture Showroom with Over 500 Pieces in Stock
Our comfortable 20,000 square foot fine leather furniture showroom boasts nearly 500 quality pieces on display and ready to purchase. Find something you like? You can take it home today. We also can special order any of our pieces to suit your specific design needs.
Our showroom is built for browsing and shopping at your own pace, and features only the finest real leather furniture brands like Omnia, Bradington Young, American Leather and more. Stop in for a few minutes – or spend the entire day. You'll enjoy a leather furniture shopping experience like no other.
Quality 100% Real Leather Furniture – Nothing Less
At Currier's, when we say quality 100% real leather furniture, we mean it! We do not carry "bonded" or "split" leather, or brands that compromise on constructions and durability. Our leather furniture is built to provide years – even decades – of flawless, dependable enjoyment.
We also don't play games with how we promote our real leather furniture. Many stores market pieces as "real leather" even though only the seat or backing contains 100% leather. At Currier's, our real leather furniture is 100% leather through and through. Plus, by stocking only the finest quality leather furniture brands like Fjords, Ekornes, Bradington Young, American Leather and Omnia, you know your Currier's leather furniture is designed to last.
Take Your New Leather Furniture Home Today
With nearly 500 pieces available in our showroom at any given time, you can bring your new leather furniture home the very same day. Plus, you can enjoy an additional savings on top of our standard 40% – 60% discount on most showroom pieces.
For those who prefer delivery, Currier's makes it easy. Which is thanks to our partnership with Bridges Bros. Movers, who are experts at maintaining your new leather furniture's pristine condition throughout the entire moving, delivery and installation process. Contact Bridges Bros. Movers at 603-259-1782.
We also love special orders and will gladly help you customize your perfect leather furniture pieces to suit your home and lifestyle.
Thousands of Customized Leather Furniture Options Available
While our expansive showroom includes hundreds of furniture pieces you can bring home today, we also can customize our leather furniture to suit your unique décor and style. Our manufacturers offer thousands of colors, sizes, styles and grades, enabling you to design the perfect piece to suit your home and budget. In the end, we can help you get exactly what you want at an affordable price you're sure to love.
Our knowledgeable and friendly staff will walk you through all the options available to customize your furniture to complement your decor and lifestyle.
Your Satisfaction Always Comes First
In addition to being experienced leather furniture experts, the Currier's Leather Furniture team prides itself on always providing unsurpassed customer service to everyone. From answering your leather furniture questions and providing helpful decorating tips to providing all of the information you need to get the most from your purchase, Currier's always puts your satisfaction first. We'll even help you load your new furniture onto your vehicle (for those looking to bring their purchase home the same day). As a family owned and operated business, Currier's Leather Furniture treats everyone the way we ourselves want to be treated – as a valued member of the Currier family.