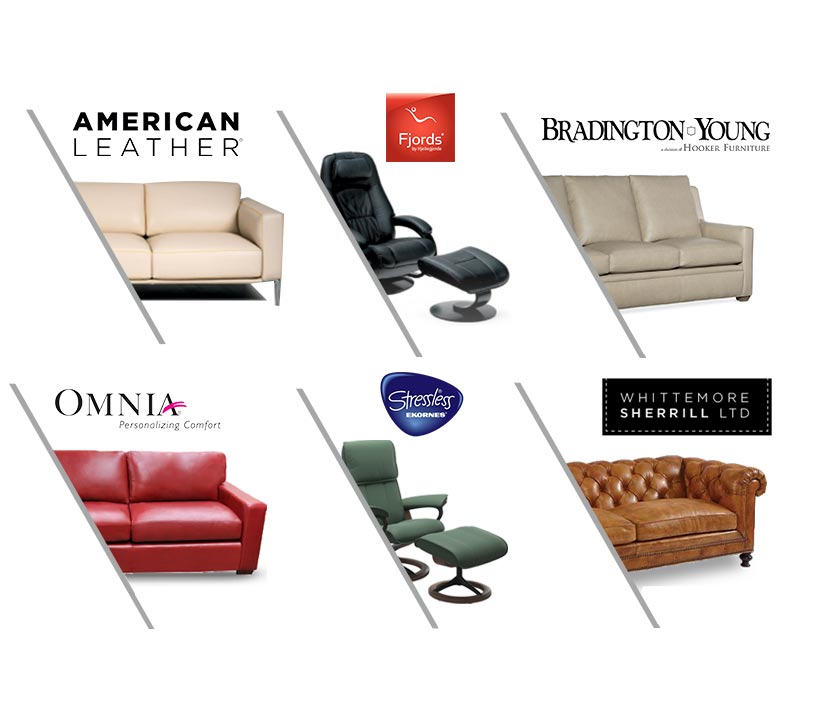 Quality Leather Furniture Brands Built for Comfort & Longevity
At Currier's Leather Furniture, we pride ourselves on selling the finest leather furniture pieces that are constructed to last for many years. We meticulously research leather furniture manufacturers and only stock those brands that meet our rigorous standards for quality. The brands we offer – Omnia Leather, Bradington-Young, Fjords, American Leather, Whittemore Sherrill and Ekornes – consistently have proven to be top-performers in the industry.
There are many factors to consider when evaluating leather furniture brands, such as how and where it will be used and customization options.  As experienced curators of fine leather furniture, we've outlined our grading practices and created a Leather Furniture Brand Comparison & Ranking Guide to help you select the best brand for your lifestyle.
How We Compare & Rank Leather Furniture Brands
Quality Frame Construction
is one of the most critical elements in determining quality and a good predictor of durability and longevity.
The underlying frame supports the seating area, so we recommend hardwood frame construction for sturdiness and longevity. Simply put, frames made of pressboard and laminate do not last and often do not provide adequate support for long-term seating. Our brands offer two styles of construction; 8-way hand tied and "no-sag" construction. Both of these methods have proven to last 30+ years, which is what we hope for all the furniture we sell.
Top Grain Leathers are essential to ensure the long-term durability of your furniture.
Top grain leathers receive their grades based the lack of imperfections. The less blemishes and scarring, the higher the grade. Top grain leathers usually aren't treated with a finish, giving them a more natural, soft feeling. As a result, top grain leather often is more delicate and can scratch, stain and fade more easily. Lower grade leathers may have more imperfections and typically (but not always) include a protective coating for increased durability and resist staining, scratching and fading longer. The protection also tends to hide natural blemishes.
Some leather furniture brands will use better quality leather on the seating and arm areas, but will substitute lower quality bonded leathers in other areas.
Currier's recommends brands that exclusively use top grain leathers.
Craftsmanship and Detail is another important factor when evaluating furniture quality and longevity.
High quality leather furniture should match on every side, including leather grade, texture and dye-lot batch for consistent color. Multiple-set collections will show superior consistency from piece to piece.
Unattached, removable seat cushions are superior in quality and can save expense when accidents happen. Also, after many years, it may become necessary to repair or replace the cushion cores. This is easy with removable cushions. Conversely, permanently attached seating is extremely difficult and expensive to repair.
Many additional details are present in high quality furniture design and manufacturing. The best leather furniture manufacturers pride themselves on strong attention to detail — from precise seaming and stitching to the use of premium leather finishes and hardware. In addition, most high-quality leather furniture brands feature hand-made pieces by experienced crafts people, transforming your leather sofa, loveseat or chair into decorative works of art.
Ashley/Millenium
Chateau d'Aux
Lane
La-Z-Boy
Natuzzi
Futura
Bernhardt
Flexsteel
Palliser Horizons
✤ Ranking based on leather quality, construction, craftsmanship and value.
✤ Brands Currier's carries are highlighted in red.