Ekornes-Stressless Leather Furniture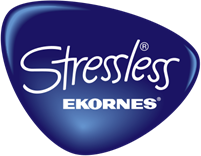 The World's Most Comfortable Leather Chairs
Knowing what you want – without compromising – is an art form. When you've experienced the top of the range, you don't settle for second best. It's that same philosophy which drives the Ekornes line of Stressless® Leather Chairs. In everything from testing to material selection and design, Ekornes Stressless® does not compromise. Plain and simple, we build the world's most comfortable leather chairs.
Defying Convention in the Quest for Ultimate Comfort
Ekornes has a long history of challenging conventional furniture design and manufacturing. Understanding the science of comfort and movement has fueled our innovative spirit and desire to design the most comfortable, unique furniture in the world. The result is a perfect combination of functionality and design with instant, sustained comfort.
Sustainability That Drives The Human Spirit
Ekornes Stressless'® pledge to the environment is through leather furniture that spans generations. When you purchase Stressless® leather chairs, you choose quality that will serve you through a lifetime. Ekornes continuously strives to improve world efficiency, defined as any measure that enhances quality and reduces energy, time and wastage, creating superior leather furniture that endures.
Now's the time to save on Stressless® comfort.
Get up to $1,500 Stressless® Credit or Save $500 on Select Recliners.*
Until October 18, receive Stressless® credit for more seating and accessories with any qualifying purchase.
• $750 credit with the purchase of 2 or 3 seats*
• $1,100 credit with the purchase of 4 or 5 seats*
• $1,500 credit with the purchase of 6 or more seats*
Or get $500 off Stressless® Signature base recliners with the soft, gentle rocking motion of BalanceAdapt™ or Stressless® recliners with Classic Power™, a comfort feature that offers enhanced motorized functionality.* You can choose between five leather grades and a plethora of leather colors, and most Stressless® recliners come in S, M and L sizes to ensure the perfect fit.
Plus, be sure to take advantage of our special offer on Stressless® dining chairs. Right now, save $50 on each one when you purchase four or more.* Our dining chairs have a flexible seat and back, giving you total comfort when you lean forward or recline.
Don't miss this opportunity to save on the world's most comfortable seating. Help us celebrate 50 years of excellent comfort today!
*Exclusions apply. See store for details.
Valid September 3 – October 18, 2021.
Curriers Leather is Proud to Offer a Full Line of Ekornes Stressless® Chairs