WHAT OUR CUSTOMERS SAY ABOUT US

An absolute pleasure to walk into a furniture store and not feel the pressure of pushy sales people. Everything they carry is quality furniture with great warranties. We purchased 2 Stressless Chairs at a great price with even better customer service. I highly recommend Curriers for your leather furniture needs, you sill not be disappointed!
Vicki W.

Went in today and the selection of recliners was extensive, the owner Steve was so informative and helpful, his wife was most friendly, we felt like family rather than customers!!! My opinion….this place can't be beat for price, selection, and service…..so satisfied with our purchase!!!
James F S.

Went to Currier's with my wife. The leather furniture is beautiful and you configure what you want, which is basically custom designed by you, for you. That's not the best thing. The people are the best thing, friendly, helpful, accommodating. It was a good shopping experience.
Johnny Ray M.

A perfect local place to buy solid high quality leather furniture. We went there a few weekends ago and had the pleasure of working with the owner to find and order our pieces that match perfectly with our style home. Our furniture arrived super fast as well which was absolutely incredible!
Alexandria L.

Very informative and very attentive. No pressuring attitudes and extremely pleasant. We were concerned about our dog chewing a new leather couch so the associate gave us a large leather square to leave around the house to see if she would chew it! Definitely recommend for anyone looking to purchase high quality long term furniture.
Michael M.

NEW ENGLAND'S HOME FOR QUALITY AFFORDABLE LEATHER FURNITURE
TOP BRANDS AT THE LOWEST PRICES EVERY DAY
Whittemore Sherrill
Keaton Sofa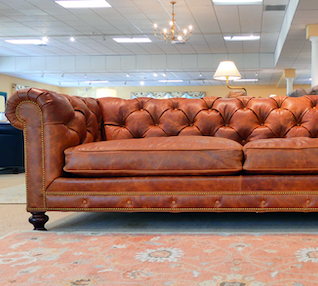 Retail Price




$13,521

Our Price




$7,436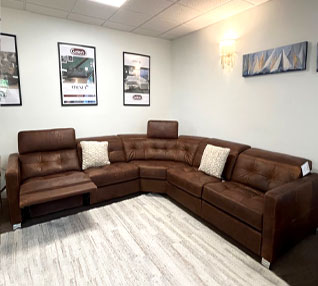 Retail Price




$23,341

Our Price




$12,887
Bradington Young
Discovery Power Sofa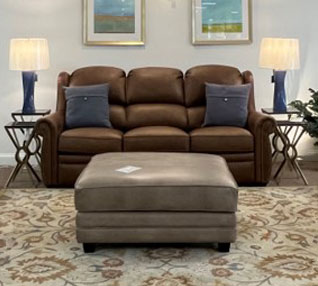 Retail Price




$12,379

Our Price




$6,808
Whittemore Sherrill
Ryder Chair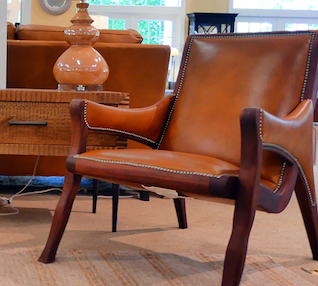 Retail Price




$5,700

Our Price




$3,135
Choose From Thousands Of Combinations Of Colors And Styles
Stop In and Explore Our Extensive Selection of Swatches Today!
Real Leather Furniture: At The Lowest Prices Every Day
Welcome to Currier's Leather Furniture in Hampton Falls. We pride ourselves on having one the largest selections of quality, American-made leather furniture in New England. From sectionals, sofas and sleepers to recliners and chairs, you'll find it here.
While our selection is huge, our prices are not. That's because we price our real leather furniture at the lowest price every day. At Currier's Leather Furniture, you can enjoy all the comfort and durability of the finest leather for hundreds – or even thousands – less than our competition. And, we're tax-free too.
Best of all, our 20,000 square foot showroom has nearly 500 pieces in stock and available to bring home the same day.
We look forward to welcoming you into our leather furniture showroom where you can browse and shop at your own pace. We're certain that you'll be impressed by how affordable we make fine leather furniture.
Nearly 500 pieces in stock. Buy today and pick-up today…
We'd Love To Keep In Touch!
Sign up now to keep up with our newest arrivals