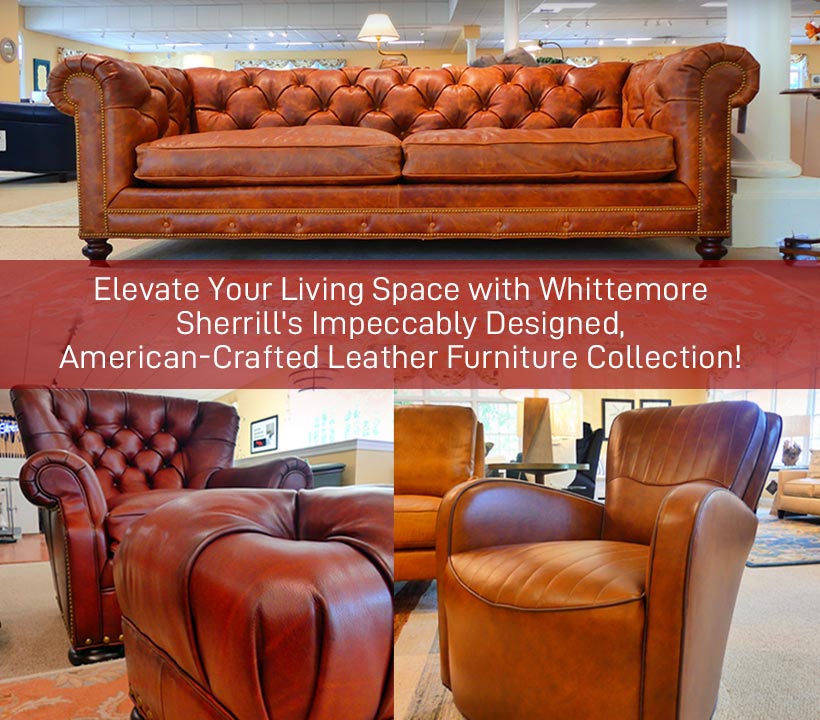 A Legacy of Hand-Crafted Elegance
Since 1945, Sherrill has been meticulously curating only the finest home furnishing materials and breathing life into them through the manual crafting of each piece, employing techniques passed down from generations of skilled artisans in North Carolina.
Whittemore-Sherrill LTD upholds this heritage by meticulously choosing the finest leather hides from across the globe, fusing them with American-made frames hand-tied in eight ways, and meticulously constructing and tailoring each item to your precise specifications in our North Carolina facility. The outcome is unparalleled custom-made leather upholstery designed and crafted to seamlessly align with your lifestyle.
Luxurious Leather Craftsmanship
Whittemore-Sherrill combines traditional hand craftsmanship with modern manufacturing methods to create top-tier upholstery frames. Each frame undergoes precise cutting and manual assembly using kiln-dried lumber, reinforced with double dowels for sturdy joints. Large corner blocks, meticulously placed at stress points and secured with glues and screws, further enhance frame stability.
The use of an eight-way hand-tied system and a full web bottom is a hallmark of high-quality furniture, ensuring enduring comfort. Whittemore-Sherrill attaches a solid interlace web bottom to each frame, securing springs of varying gauges and heights with clinch fasteners. The individual spring coils are hand-tied in eight directions using polyester cording, creating a secure anchor to the frame. Additionally, a typical Lawson-style back incorporates sinuous wire springs anchored to the frame and horizontally held together by coated wire to prevent turning.
The Art of Furniture Execellence
Every piece of Whittemore-Sherrill upholstery undergoes meticulous handcrafting by a team of skilled technicians who have spent years perfecting their trade. A marker is entrusted with the crucial task of laying out the pattern pieces for a specific style, paying meticulous attention to the diverse textures and distinctive features unique to each genuine leather hide.
Each piece is cut, manually assembled, and sewn to guarantee that it surpasses Whittemore-Sherrill's stringent tailoring standards. Specialized upholsterers and trimmers complete the process by painstakingly hand-tailoring each piece to exacting standards. Depending on the design, tailoring details may include hand tufting, pleating, or individually applying nail head trim.
Curriers Leather is Proud to Carry Whittemore-Sherrill