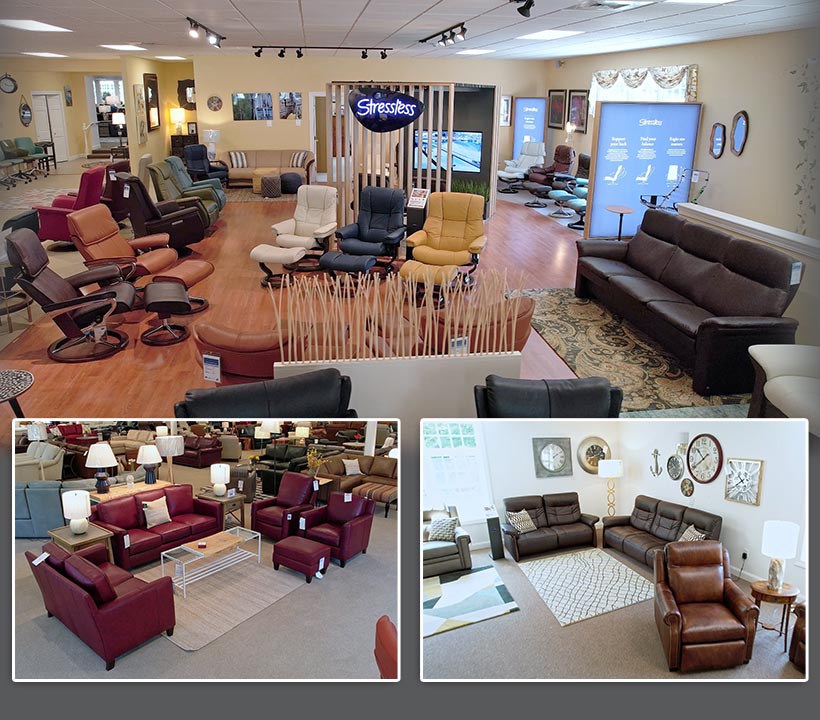 Shop Fine Leather Furniture

Whittemore Sherrill Clara Sofa
PRODUCT DESCRIPTION
Elevate your living space with the Clara sofa, — a fusion of luxury and style. Meticulously crafted for comfort and aesthetic appeal, this statement piece features premium upholstery, refined details, and a timeless design. Indulge in unparalleled sophistication as you redefine your home with the epitome of decadence.
Color: Merona Taupe, Destin Storm
*These images are for illustrative purposes only. The colors shown are accurate within the constraints of lighting, photography, and the color accuracy of your screen. More colors available.
BRAND DESCRIPTION
Whittemore Sherrill meticulously chooses the finest leather hides from across the globe, fusing them with American-made frames hand-tied in eight ways. Meticulously constructing and tailoring each item to your precise specifications in their North Carolina facility. The outcome is unparalleled custom-made leather upholstery designed and crafted to seamlessly align with your lifestyle.
Every piece of Whittemore Sherrill upholstery undergoes meticulous handcrafting by a team of skilled technicians who have spent years perfecting their trade. A marker is entrusted with the crucial task of laying out the pattern pieces for a specific style, paying meticulous attention to the diverse textures and distinctive features unique to each genuine leather hide.
*Stock changes daily and pricing can vary from the image shown
Your Whittemore Sherrill furniture purchase may offer customization options (options will vary by model selection*). Ask Currier's about these potential options and we can customize your Whittemore Sherrill purchase to your exact specifications.
Can I special order and how long will it take?
Yes. While we have nearly 500 items on the sales floor, it would be impossible for us to stock every single leather furniture option available. We always are happy to special order your customized leather furniture piece. Special orders usually take 8-10 weeks except for Ekornes Stressless Chairs, which only take 2-3 weeks for stock colors and styles.
How long does leather furniture last?
With normal use, a low-end sofa with typically last 2-5 years. A Currier's quality leather sofa can last 25 years or more. That means you would have to replace a low-end sofa 5 times or more when compared to the longevity that a Currier's sofa provides.
How does Currier's make high-quality leather furniture so affordable?
Currier's prices our leather furniture at 40% - 60% off every day. Plus, we offer additional discounts on floor samples. As a result, you can save hundreds – or even thousands – when compared to other stores. Additionally, since the furniture we sell is built to last, you will save even more money over time. So stop in – you may be surprised at just how affordable our furniture is.
With over 500 pieces available in our showroom at any given time, you can bring your new leather furniture home the very same day. Plus, you can enjoy an additional savings on top of our standard 40% – 60% discount on most showroom pieces. For those who prefer delivery, Currier's makes it easy, thanks to our partnership with Bridges Bros. Movers. With over 15 years of experience moving high-end leather furniture, Bridges Bros. Movers are experts at maintaining your new leather furniture's pristine condition throughout the entire moving, delivery and installation process.
Choose from a range of colors:
A Beginner's Guide to Leather Furniture

By now, you make have noticed that there are often huge price differences with leather furniture – even if a piece is the same style, shape and sometimes even from the same manufacturer. Why is that? Besides the construction, it could very well be the leather. Don't fall into the trap of believing "genuine leather" means a 100% real, quality leather furniture product. There are many different types of leather used in furniture, and they are not equal. Here's a little rundown on the different types, and why it pays to be an educated leather furniture consumer.

Telling the Difference Between High-Quality Leather & Cheap Leather Furniture

Leather furniture can make any room look completely timeless but if you purchase low-grade leather, you might be in trouble. In order to decipher whether the leather is real or not, check to see if there are several pieces of leather stitched together or if you're looking at a single piece of leather. If you see a large sofa with one single piece of leather, odds are it's fake.

Tips to Maintain Your Leather Furniture

There is always second guessing when making a major purchase. Last-minute doubts can fill your head but rest assured, the team at Currier's Leather Furniture can ease your mind. Buying a new leather sectional, recliner or sofa should never leave you feeling anxious, rather, you should be excited to lounge around on high-end leather furniture.
We'd Love To Keep In Touch!
Sign up now to keep up with our newest arrivals